4 Business Analytics Careers for 2022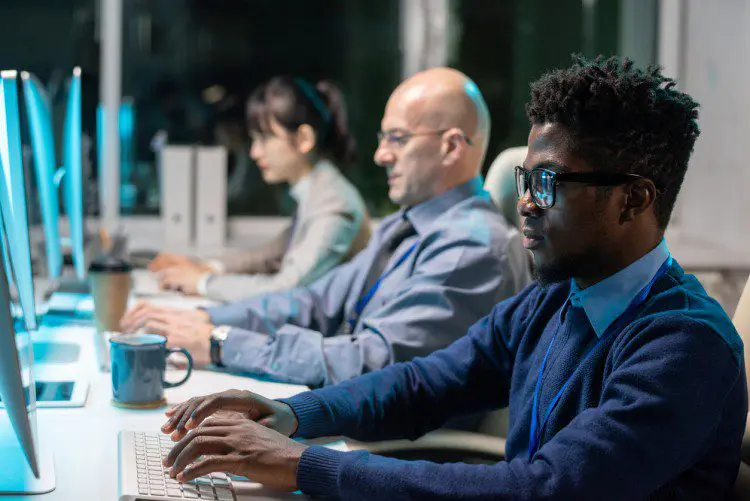 4 Business Analytics Careers for 2022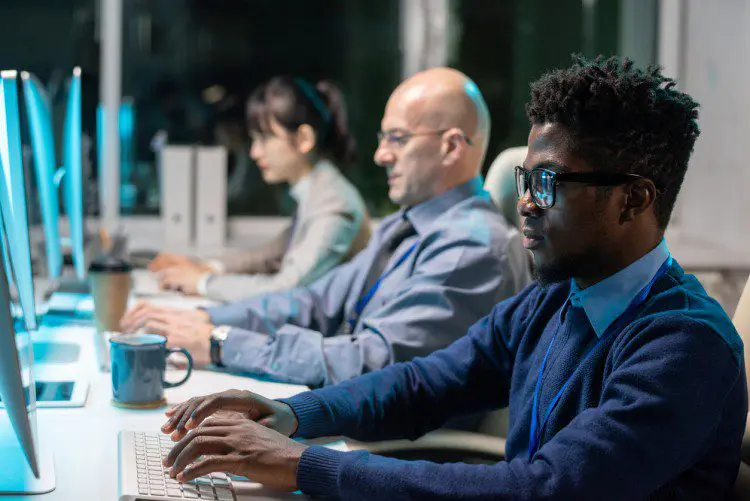 In changing times, business analysts support tough organizational decisions that lead to rewarding growth. According to Delvin Fletcher, president and CEO of the International Institute of Business Analysis (IIBA), business analysts stand at the crossroads of technology implementation and end user analysis, helping organizations grapple with a morphing marketplace in key ways, including the following:
Guiding organizations in the push to become more sustainable, inclusive, and socially responsible, shaping their unique social purpose through data-driven insights
Developing creative remote workplace strategies to improve performance, cut costs, and revamp company culture  
Supporting user experience design responses to soaring consumer expectations, helping generate human-centered digital experiences based on rich customer data
In many arenas, business analysis professionals are answering the clarion call to contribute to the evolution of business today. A master's degree in business analytics equips them to meet the opportunities and challenges ahead, offering the strategic expertise to effect change in meaningful business analytics careers. 
Business Analytics Trend ¶
Business analytics empowers organizations in today's markets. Using its tools and processes boosts an organization's ability to interpret information about:
Customer behavior
Company performance
Market trends
This in turn equips organizations to make decisions based on relevant real-world information. 
With business analytics, organizations can gain insights into why events occur, such as a gain or a drop in sales. Organizations can also use business analytics to accurately predict market behavior, enabling more strategic planning that limits risks and takes advantage of opportunities. 
A McKinsey report found that business analytics played a significant role in boosting the profits of organizations that experienced the greatest overall revenue growth. It's no wonder, considering what analytics tools can help organizations achieve — from immediately detecting fraudulent bank activities to predicting infections in patients before physical symptoms appear.     
Advances in business analytics are rapidly emerging. 
Prescriptive analytics makes recommendations about how to improve aspects of scheduling, inventory, and supply chain design, based on historical and current data.
Embedded analytics, embedded in software, makes it easier for users to get the data they need without information overload.
Cloud analytics stores and analyzes data in the cloud and makes analytics easier and cheaper than on-site analytics.
Organizations that integrate these developments into how they do business will likely gain a competitive edge. Some business analytics trends expected to strongly influence how organizations function in the future are the following: 
Data-Driven Customer Experience ¶
Customer experience refers to all the interactions between a business and a customer and how the customer feels about and responds to those interactions. Although key to business survival, customer experience is often problematic, and that spells trouble. An Oracle study found that 1 in 3 customers abandon a company after just one negative experience. 
According to McKinsey, only about 1 in 10 business leaders expressed confidence in their organizations' current ability to deliver rapid insights for addressing customer needs. Data analyst expertise can help.
Predicting Customer Behaviors and Needs ¶
Today's companies have access to data that can help predict customer behaviors and needs.
Data on the interactions and transactions of customers
Third-party data on the preferences and buying patterns of customers
Data on the social media activity of customers
Data from the internet of things about the location, health, or habits of customers
By developing analytics, such as machine learning algorithms, organizations can leverage data to deliver personalized and responsive customer experiences. Analytics-based customer experience programs allow organizations to identify specific moments during interactions with customers that influence their satisfaction. 
Organizations can then make strategic adjustments to improve customer experience. For example, suppose an analytics-based system reveals that a third of an online retailer's customers abandon their purchases at a specific point in the buying process. The retailer can analyze what leads to the cart abandonment, and then make changes accordingly. 
Ultimately, using analytics to drive customer experience can help organizations improve customer loyalty, reduce the costs of servicing customers, and boost revenue. McKinsey reports that one healthcare organization that implemented an analytics-driven system lowered its customer experience program costs by up to 25%. 
Data Automation ¶
Data automation is another burgeoning trend in analytics. The technology uses automated tools to upload, process, and store data. This eliminates many outdated data management tasks, such as manual data entry and data encoding, without the aid of computer software, which is often prone to errors and inconsistencies. Data automation, on the other hand, helps ensure that data is both accurate and properly formatted.   
With data automation, organizations can efficiently consolidate data from various sources. They also improve their ability to efficiently gather, update, and pass data between systems. 
Organizations using data automation can count on several other advantages as well:
It frees up employees' time. Instead of standardizing and validating data before loading it into a system, employees can focus on data analysis. Data automation also reduces unreliable data that can hamper employee productivity. 
It supplies reliable data. Having reliable data enables sales and marketing teams to locate the right prospects. Customer service professionals and accounting teams can also rely on accessing data that's up to date and accurate, making it easier for them to meet customer  needs. 
It lowers costs. Because it removes tedious or repetitive tasks from employee' routines, data automation can improve employee engagement and productivity and enable cost-saving efficiency.
Augmented Analytics ¶
Interpreting complex data sets is challenging. Augmented analytics can help. 
Powered by machine learning and artificial intelligence (AI), augmented analytics makes it easier for nonexperts in data analysis to extract insights from data. The technology uses tools and software that enable more people to perform technical tasks, such as creating data analytics models. 
Augmented analytics uses data and metrics to automate decision-making as well. This guides users to uncover insights that they may not have otherwise discovered. For example, augmented analytics using AI may identify bank customers who are ready to buy or sell equities. The technology can then automate recommendations to those customers or alert bank employees to contact them. 
Another way a business can use augmented analytics is through AI image recognition. This visual search tool can allow a business to locate people on social media who may be uploading information, such as images, of its products or competing products. The business can then target those users with customized advertising.
Organizations using augmented analytics typically get more out of their data with less effort. By removing technical barriers, augmented analytics enables professionals with less-developed analytical expertise to use data more efficiently. This means more people within an organization can find information faster, ask more meaningful questions, and discover relevant insights. 
Augmented analytics also empowers senior analysts to prepare and analyze data more thoroughly and quickly. 
Jobs in Business Analytics ¶
The boom in business analytics translates into a wealth of career opportunities for individuals with in-demand skills in the field who are up to date on the latest data analytics technologies. Consider the following in-demand careers in business analytics: 
1. Senior Data Analyst ¶
Senior data analysts help organizations revamp and improve their strategies for collecting, analyzing, and making sense of data. This involves designing, coding, testing, and debugging programs and applications. It also involves leading data analyst teams to parse data for insights that can inform strategic business decisions. 
Senior Data Analyst Duties ¶
Senior data analysts help ensure that the right people have the right information at the right time. By mining databases for key insights and communicating those insights to the relevant parties, senior data analysts provide invaluable support throughout an organization. 
Senior data analysts build statistical models, and then evaluate and improve those models over time to ensure that they're performing up to par. Such models can guide organizations on everything from competitive pricing to effective recruitment processes. They can also reveal critical information about risks and opportunities. 
For example, one model could indicate shifts in consumer preferences likely to affect sales of a specific product, while another model could identify a new promising market to target. 
Senior data analysts frequently meet with top executives and other decision-makers to present written reports as well as visual aids and graphics on their findings. They may recommend and discuss ways departments can use data to improve efficiency.   
In addition to analyzing and interpreting data, senior data analysts help their organizations efficiently collect, store, and process data. This involves creating systems that help ensure that data is reliable and complete. Data gaps and inaccurate data can lead to faulty analyses that stall progress and block opportunities. 
To prevent these problems, senior data analysts develop effective ways to import data from external sources and capture data about business operations. They also strategize methods for processing and storing data in alignment with the needs of various departments.  
Senior Data Analyst Requirements and Skills ¶
Success as a senior data analyst requires the right education and experience. To start, most employers prefer candidates with a master's degree in business analytics; computer science; or a related field, such as applied math. This degree can prepare graduates in data mining, Structured Query Language (SQL;  the standard programming language in data analysis), database management, and more. 
Typically, senior data analysts have at least five years of work experience in data analysis, giving them agility in creating reports and statistical models. This work experience also sharpens a senior data analyst's knowledge of information technology (IT) business systems and reporting tools, such as Tableau. 
Top skills for senior data analysts include the following: 
Analytical skills. To accurately assess data and glean meaningful insights, senior data analysts must skillfully perform quantitative analysis. They also need strong analytical skills to troubleshoot and filter out irrelevant data. 
Communication skills. Senior data analysts must regularly collaborate with both junior data analysts and organizational leaders. Whether conveying instructions to team members or advising or reporting to leadership, senior data analysts must communicate clearly and convincingly. 
Senior Data Analyst Salary ¶
Senior data analysts earned a median annual salary of about $83,900 as of December 2021, according to PayScale. Top earners made as much as $112,000. Factors such as job location, years of experience, and industry can affect how much professionals in this business analytics job earn. 
2. Quantitative Analyst ¶
Quantitative analysts, or quants, help organizations make sound business and financial decisions. Using mathematical and statistical modeling, quantitative analysts identify investment opportunities and aid companies in managing risk. Their expertise allows them to guide businesses in everything from choosing what products to promote to what securities to invest in. 
Financial organizations (investment banks, private equity firms, hedge funds) and insurance companies rely heavily on quantitative analysts. However, quantitative analysts can find work in nearly every field, including retail, logistics, and even government. 
For example, quantitative analysts conduct research on market trends and statistics to help various types of organizations develop pricing strategies. They then analyze the numbers they've dug up to help organizations set ideal prices for products. 
Quantitative Analysts in Finance ¶
Quantitative analysts in finance help firms determine the value of their securities, or they may advise banks on the potential risks and rewards of various investment opportunities. Frequently, quantitative analysts develop statistical models that forecast price changes. This allows organizations to make better investment decisions. 
Quantitative Analysts in Trading ¶
Quantitative analysts also play an important role in the trading world. Algorithms have become central to investment strategies because they leverage the speed and processing capacities of computers. This usually translates into greater profits. Companies buying and selling securities hire quantitative analysts to develop these algorithms. 
By studying technical indicators in the stock market, such as price movements, and crunching numbers related to time, price, and volume, quantitative analysts devise formulas capable of predicting the most profitable times to buy and sell. These algorithms also trigger automatic trading when shares meet specific criteria. 
Quantitative Analyst Requirements and Skills ¶
Quantitative analysts typically need at least a master's degree in data analytics, mathematics, the hard sciences (e.g., physics or geology), or statistics. This schooling can develop their knowledge of statistical modeling and strengthen their computer operation and programming skills. Wall Street firms often recruit quantitative analysts who have a doctorate.   
In addition, quantitative analysts generally have three years of related work experience. This gives them a chance to sharpen their knowledge of risk management, trading strategies, statistical modeling techniques,  etc. 
Other key skills for quantitative analysts include the following: 
Advanced math skills. Working with numbers is central to what quantitative analysts  do. Whether developing risk evaluation strategies or programming algorithms, quantitative analysts must make calculations and study numbers, so it's critical that they possess highly developed math skills. 
Research skills. Quantitative analysts must collect relevant data to develop their statistical models, algorithms, trading strategies, etc. This involves research. Quantitative analysts must use methodical processes to locate the data they need, and they need analytical skills to determine the relevance of the data they uncover.
Quantitative Analyst Salary ¶
Quantitative analysts earned a median annual salary of about $85,100 as of December 2021, according to PayScale. Top earners made up to $133,000. Quantitative analysts working in trading tend to earn substantially more. Job location, industry, employer, skill level, and experience can all influence what quantitative analysts earn. 
3. Business Data Analyst ¶
Organizations collect large amounts of data in their daily operations, including data on sales, operational costs, and website traffic. This data has great potential, but unstructured, it offers little value. Business data analysts, however, can transform this raw content into strategic information. 
By continuously analyzing their organizations' data, business data analysts identify opportunities to improve products and processes. They then recommend ways to reduce inefficiency and optimize performance. 
For example, based on their analyses, these professionals may discover ways to improve how an organization:
Manages the supply chain
Sets budgets
Recruits employees 
Business data analysts may then advise a company to change shipping routes to speed up distribution, or they may suggest new ways to onboard workers. 
Business data analysts conduct research and statistical modeling. However, business data analysts focus more on using the insights extracted from data to improve how an organization operates. Data analysts tend to concentrate more strictly on the data analysis itself. 
Another important role for business data analysts involves linking the technical and nontechnical departments of organizations. Business data analysts help bridge understanding between business and IT teams. They help communicate the needs of departments outside of IT to people with the technical expertise to offer solutions.
Business Data Analyst Requirements and Skills ¶
Qualified business data analysts need at least a bachelor's degree in business analytics, or business management with a concentration in data analytics. However, earning a master's degree in business analytics or a related subject gives job candidates a competitive edge. The degree can also build expertise in business analysis methodologies and increase earning potential.
Business data analysts also benefit from prior work experience. Starting as a junior analyst or an intern gives individuals a chance to cultivate their knowledge of business concepts and gain experience in predictive modeling and other data analytics techniques. 
Important business data analyst skills include the following:   
Communication skills. To successfully convey the needs of business teams to IT departments, business data analysts need excellent communication skills. Additionally, to convince organizational leaders to accept their recommendations, business data analysts need to express their ideas clearly and persuasively.   
Business acumen. Business data analysts need technical expertise to make sense of an organization's data and identify areas for improvement. However, to put their insights to work, they need a solid understanding of business principles. This enables them to make  effective and practical recommendations. 
Business Data Analyst Salary ¶
Business data analysts earned a median annual salary of $86,200 in May 2020, according to the U.S. Bureau of Labor Statistics (BLS). Top earners in this business analytics career made as much as $144,330. Industry, job location, and years of experience account for salary variations.    
4. Director of Analytics ¶
Directors of analytics lead the data warehousing and data analytics departments of their organizations. They ensure that their departments' activities align with the overall business strategies. This involves overseeing the management of all data analytics systems. It also involves assembling the technology, finding the right employees, and leveraging the financial resources required to meet the analytics needs across an organization.    
As executive leaders, directors of analytics work to build data-driven cultures in their organizations. They inform department heads on ways to incorporate analytics into various business processes and explain the benefits. They also advocate for the adoption of data analytics software across their organizations. 
Within their departments, directors of analytics mentor teams. This may involve offering expert advice and recommendations on effective analytical approaches to solve problems. It may also involve coaching them through research and development challenges. 
In addition to their leadership responsibilities, directors of analytics play a key analytical role.
They perform statistical analysis, identifying patterns and insights to locate risks and opportunities. They also analyze data sets and create forecasts to support optimizations throughout their organizations.   
Director of Analytics Requirements and Skills ¶
Well-qualified directors of analytics need at least a master's degree in business analytics; data science; or a related field, such as statistics or applied math. The degree helps ensure that candidates have advanced skills in business process analysis and strategic planning.
Extensive experience is also a requirement for the executive-level position. Most organizations seek candidates with at least 10 years of relevant experience. Directors must have a deep knowledge of working with computing systems and large data sets. They also need a good deal of management experience.   
Skills essential to succeed as a director of analytics include the following: 
Leadership skills. To influence organizational leaders and inspire their teams, directors of analytics project a clear vision. They also demonstrate good judgment, communicate well, and act as expert guides leading data-driven initiatives. 
Analytical skills. Directors of analytics make key decisions related to data governance, business strategies, and the use of resources. This requires the ability to think critically and analytically. Interpreting data and making strategic decisions about how to optimize business processes also demand superior analytical skills. 
Director of Analytics Salary ¶
Directors of analytics earned a median annual salary of about $129,600 as of December 2021, according to PayScale. However, some directors of analytics can make as much as $176,000. Again, industry, job location, years of experience, and employer all impact how much directors of analytics earn. 
Innovate Data-Driven Solutions ¶
As data continues to transform how organizations operate and their ability to compete, businesses across every industry will seek out business analytics experts. With the right education, those inspired by the chance to harness the power of data and innovate solutions to business problems can explore several careers in business analytics.
Athens State University offers an advanced degree program in business analytics that prepares graduates to develop both the technical skills and the business acumen to thrive in the field. Discover what it takes to become an influential data leader by learning more about Athens State University's online Master of Science in Strategic Leadership and Business Analytics.
Recommended Readings
Benefits of a Business Analytics Degree
Data-Driven Leadership: How to Maximize Data in Business and Healthcare
Types of Business Degrees: Which Path Is Right for Your Career?
Sources:
Analytics Insight, Top Business Intelligence Trends and Predictions for 2022
Astera, "Data Automation: How It Transforms the Enterprise Landscape"
Bernard Marr & Co., "How Is Big Data Transforming Business?"
Cleverism, Director of Data Analytics
Cleverism, Senior Data Analyst
Data Driven Investor, "An Overview of Senior Data Analyst: Skills, Salaries and More"
Forbes, "The 5 Biggest Data Science Trends in 2022"
Investopedia, "Quantitative Analyst: Job Description and Average Salary"
McKinsey & Company, Catch Them If You Can: How Leaders in Data and Analytics Have Pulled Ahead
McKinsey & Company, Prediction: The Future of CX
Modern Analyst, "6 Trends Impacting Business Analysis to Watch in 2021"
Oracle, Upset and Disappointed: 82% of Consumers Give Brands the Thumbs Down
PayScale, Average Director of Analytics Salary
PayScale, Average Quantitative Analyst Salary
PayScale, Average Senior Data Analyst Salary
Rocket Content, "What Does a Business Data Analyst Do? (And How This Role Helps a Company)"
SHRM, Financial Quantitative Analyst
Tableau, Augmented Analytics Explained: Definition, Use Cases, Benefits, Features, and More
U.S. Bureau of Labor Statistics, Operations Research Analysts
Related Articles: