Healthcare Administration vs. Healthcare Management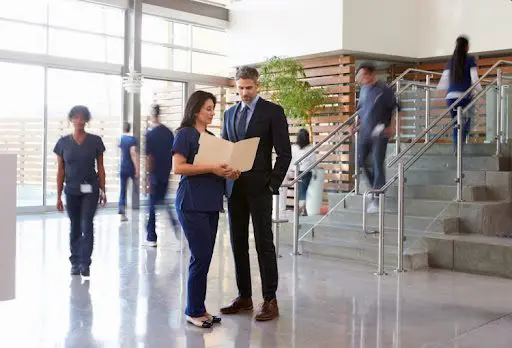 Healthcare Administration vs. Healthcare Management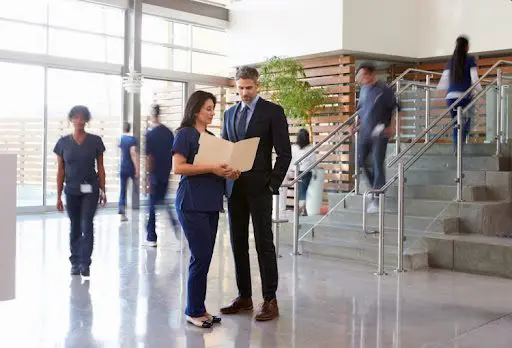 No matter how you look at it, the role of the healthcare industry in the U.S. economy can't be overstated. In 2019, according to the Brookings Institution:
The healthcare sector employed 11% of U.S. workers 
Health insurance accounted for the largest element (26%) of nonwage compensation
Healthcare accounted for one of the largest elements (8.1%) of consumer spending
Given its size, the healthcare industry needs not only skilled medical professionals but also talented individuals in administration and management who can steer healthcare organizations to operate efficiently, grow, and prosper. Although administrators and managers are critical players in the healthcare industry, confusion about healthcare administration vs. healthcare management is common. Unfortunately, that confusion is perpetuated by many people viewing the terms "administration" and "management" in healthcare as identical, and thus using them interchangeably. 
Administration and management in healthcare are certainly related, and it can be difficult to see where one ends and the other begins. However, teasing out the distinctions between healthcare administration and healthcare management is important, particularly to individuals who have an interest in working in those fields. Job responsibilities and career opportunities in administration differ from those in management. Healthcare organizations can also benefit when individuals recognize that their unique talents are better suited to either administration or management.
To find their niche in healthcare, students in Master of Science (MS) in Strategic Healthcare Management and Administration programs need to develop a good understanding of the distinction between healthcare administration and healthcare management.
What Is Healthcare Administration? ¶
The Houston Chronicle notes that one way to think about the difference between administration and management is to consider the focus of each function. Healthcare administration, for example, focuses on specific departments or staff within a healthcare organization. In general, administrators direct workflows in specific areas that help healthcare organizations operate effectively. 
As an example, consider the role of a healthcare administrator responsible for overseeing a healthcare organization's accounting department. In addition to knowledge about accounting treatments and accounting principles, a leader in that role would need to have expertise in specific areas related to healthcare, such as insurance (including Medicare, Medicaid, and private insurance); claims management; patient billing; depreciation of medical assets; and calculation of the cost of uncompensated care.
In another example, a healthcare administrator could be responsible for overseeing a healthcare organization's human resources (HR) department. In addition to having traditional HR expertise in areas such as hiring and compensation, the administrator would need to have knowledge and skills to handle HR matters specifically related to healthcare, such as licensing and continuing education requirements, the ongoing nursing shortage, and employee retention challenges associated with healthcare professional's levels of burnout and stress.
What Is Healthcare Management? ¶
In contrast to healthcare administration, healthcare management focuses on the bigger picture. For example, healthcare managers could develop plans for the growth of a healthcare organization or formulate strategies to adjust to changes in the healthcare market.
Healthcare organizations face numerous challenges, and they rely on strategic planning expertise to address those challenges. Healthcare managers who are experienced in strategy formulation could help to develop and implement realistic plans for dealing with an aging population, increases in chronic disease, or growth in the use of telemedicine.
Healthcare organizations' growing use of data analytics is another example in which a healthcare manager could add value and contribute to the big picture. For example, a healthcare manager with analytics expertise could be responsible for analyzing data on clinical outcomes and identifying ways to improve outcomes or reduce costs. 
Careers in Healthcare Administration and Healthcare Management ¶
Both healthcare administration and healthcare management offer individuals the opportunity to work in various settings. The U.S. Bureau of Labor Statistics (BLS) notes that both healthcare managers and healthcare administrators can work in settings such as private, state, and local hospitals; physicians' offices; residential care facilities; nursing homes; outpatient facilities; and government agencies. 
The job outlook is also bright for both healthcare administrators and healthcare managers. The BLS projects that employment of medical and health services managers (including healthcare administrators) will grow by 32% between 2019 and 2029, significantly higher than the 4% projected growth rate for all occupations during the time period.
Taking a look at careers in healthcare administration, according to PayScale, as of August 2021:
The median salary for healthcare administrators overall is about $67,800 
The median salary for healthcare program directors who oversee specific departments such as personnel or patient records is about $81,000
Regarding careers in healthcare management, according to PayScale, as of August 2021:
The median salary for healthcare managers overall is about $66,600
The median salary for healthcare managers with strategic planning skills to align budgets, community needs, and healthcare facility goals is about $71,000
Health Career Administration and Healthcare Management: Two Compelling Career Choices ¶
A role in healthcare administration or healthcare management offers the opportunity for a rewarding career helping healthcare organizations excel. If you're interested in joining the ranks of healthcare administrators and managers, explore Athens State University's online MS in Strategic Healthcare Management and Administration program. With courses in topics such as human capital leadership, influential leadership, and strategic thinking, the program prepares students for various roles in healthcare leadership. Start climbing the healthcare career ladder today.
Learn more about benefits of a career in Healthcare Administration ¶
Recommended Readings:
How to Become a Healthcare Administrator
Healthcare Administration Careers
What Can You Do with a Masters in Healthcare Management
Which Path Is Right for Your Career?
Sources:
American Hospital Association, Uncompensated Hospital Care Cost Fact Sheet
Athens State University, 2021-2022 Graduate Academic Catalog
BKD, "Accelerating Depreciation Expense for CAHs"
Brookings Institution, "A Dozen Facts About the Economics of the US Health-Care System"
Forbes, "The Future of Healthcare Is Coming Home: Three Major Trends to Leverage for Startups"
GlobeNewswire, Healthcare Analytics Market Revenue to Cross USD 23.5 Bn by 2027: Global Market Insights Inc.
Houston Chronicle_, "Difference Between Business Administration vs. Business Management"
PayScale, Average Health Care Administrator Salary
PayScale, Average Healthcare Manager Salary
PayScale, Average Healthcare Manager with Strategic Planning Skills Salary
PayScale, Average Program Director, Healthcare Salary
Pearl Chartered Accountants and Tax Advisors, "The Importance of Accounting in the Healthcare Industry"
SHRM, "The Health Care Industry's Top HR Challenges"
U.S. Bureau of Labor Statistics, Medical and Health Services Managers
Related Articles: