Healthcare Trends: Challenges and Solutions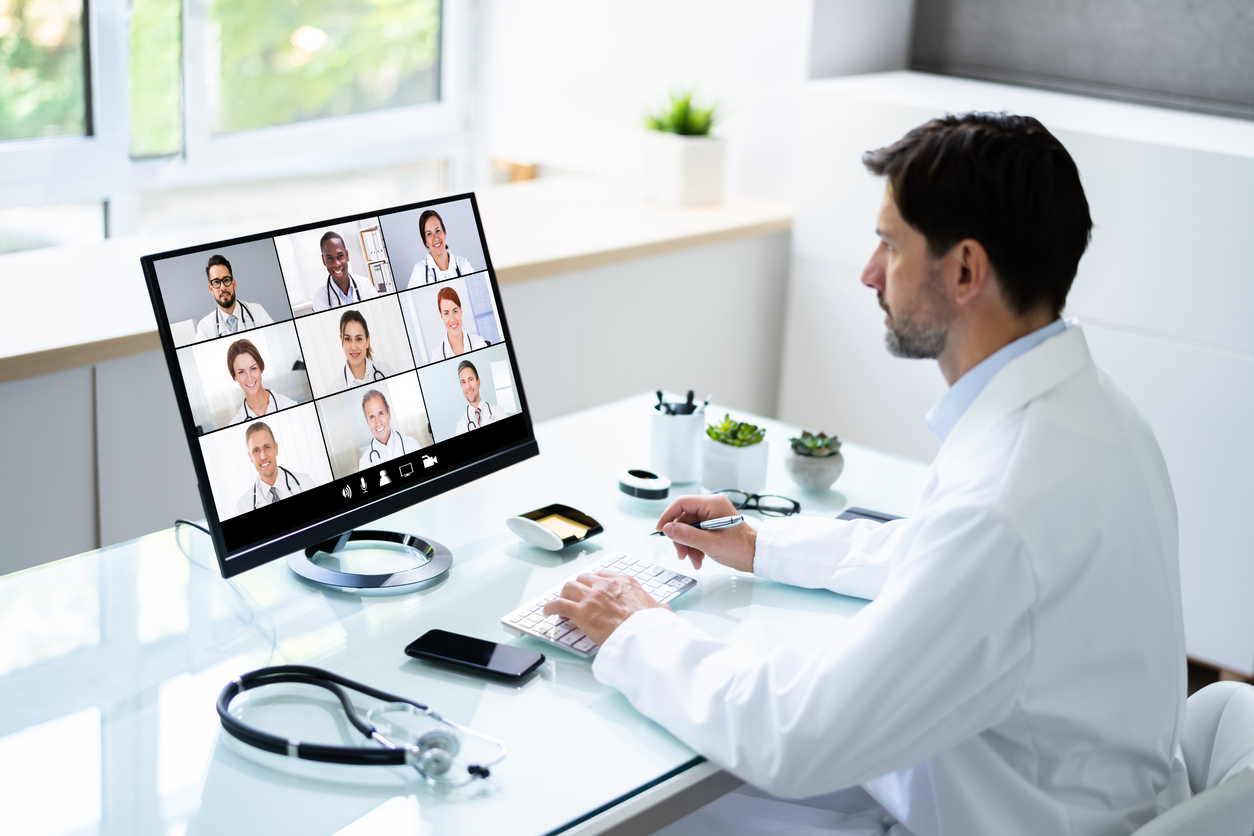 Healthcare Trends: Challenges and Solutions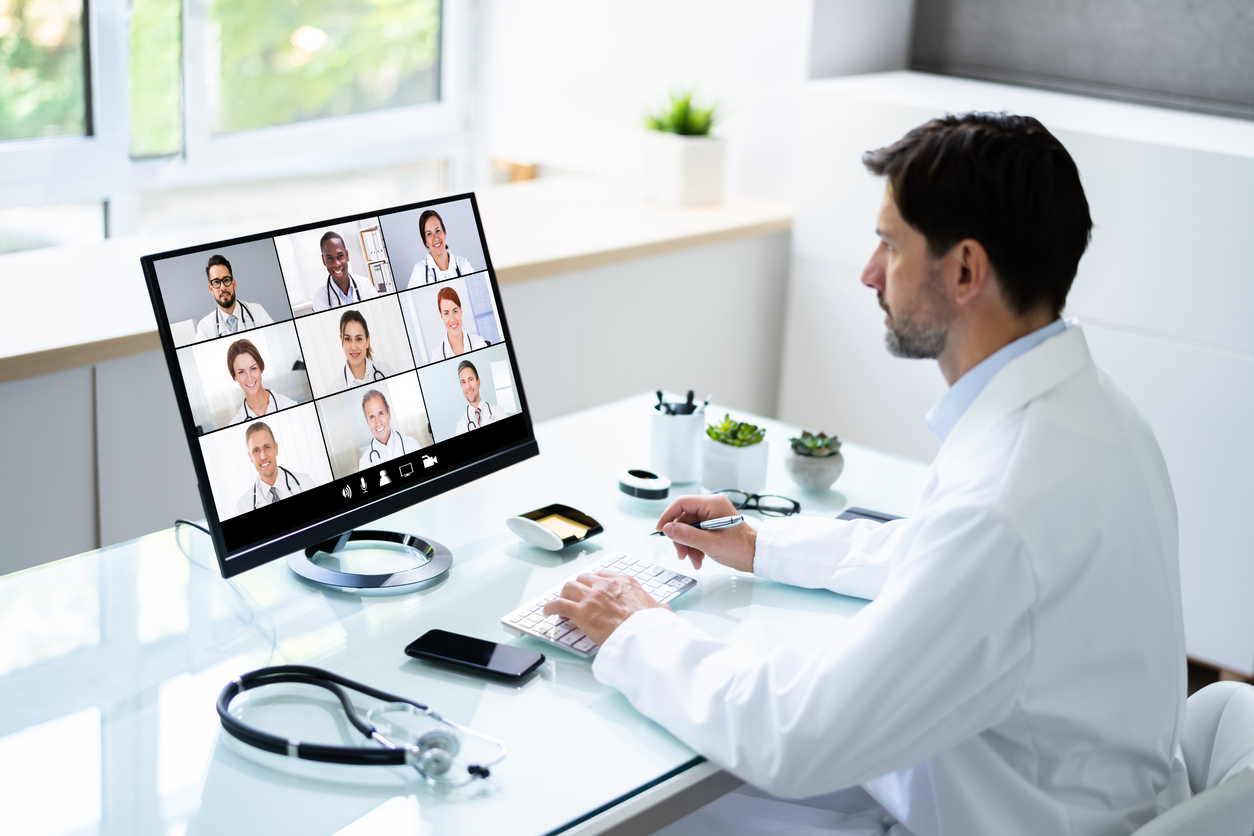 The opportunities on the horizon for professionals in healthcare are almost limitless. With the rise of telehealth services, as well as new and innovative approaches to diagnosis, treatments, and long-term goals, healthcare administrators are at the heart of facilitating comprehensive and efficient medical care.   
Healthcare trends that drive many of the decisions made by leaders in the medical field will continue to be influenced by challenges resulting from the COVID-19 pandemic for the foreseeable future. Facilities can feel the lasting effects of the sheer number of cases they have treated, which continue even as rates fall. Healthcare experts predict that healthcare providers will face workforce shortages due to burnout, pay disputes, and attrition. 
Technology will play an increasingly bigger role in every aspect of the medical field, from virtual appointments to data collection from wearables, invoicing and bill payments, record keeping, and patient care plans and communication. Artificial intelligence will bring new possibilities to diagnoses and procedures. But with innovative systems and programs come financial investment decisions, concerns about privacy, and obstacles to integration and implementation. 
These healthcare challenges and solutions — in workforce issues, finances, and technology — will continue to drive healthcare trends. Key to navigating this landscape will be committed professionals, prepared by rigorous healthcare degree programs, at both the undergraduate and postgraduate levels. 
Healthcare Challenges and Solutions ¶
Providing healthcare to a diversified population means facing ever-changing challenges. For example, the Office of the Assistant Secretary for Planning and Evaluation of the U. S. Department of Health & Human Services (HHS) reported that, between March and April 2020, 1.5 million healthcare workers left their jobs, leaving medical facilities short-staffed and reeling from the workload. As a result, patients experience longer wait times, and caregivers are completely worn out. 
Financial uncertainty and the complexities of patient costs have placed additional burdens on workers, administrators, and executives in hospitals and other healthcare facilities. The demand for state-of-the-art care, new and improved technology, and stockholder satisfaction creates seemingly impossible situations as management faces budgetary restrictions. 
Workforce ¶
From the effect of the COVID-19 pandemic, to the declining numbers of qualified healthcare workers, to the impact of these issues on patient experiences, the healthcare field faces significant challenges in its workforce at every level.
Staff Shortages ¶
Skilled and professional medical workers are retiring earlier, and as a result of the pandemic, some left the profession for family or health reasons. The figures below illustrate the shortages: 
In 2019, 35% of people who responded to an Association of American Medical Colleges (AAMC) survey reported difficulty getting in to see a doctor — a figure up 10% from 2015. 

Although the number of applications to medical school jumped 18% at the height of the pandemic, the American Medical Association (AMA) reports that by 2027, retirement-aged physicians will reach 35% of the current workforce. 

The AMA estimates that the shortage of physicians in both primary and non-primary care positions will reach between 35,000 and 125,000 by 2034.

Based on studies conducted to determine the lingering effect of the COVID-19 pandemic, McKinsey & Company estimates the number of additional nurses who will be required to provide direct patient care may reach 200,000 to 450,000 by 2025.
Pandemic Fallout ¶
The pandemic affected even the most devoted care givers. By the fall of 2020, more than 75% of those in the medical field felt burnout, stress, anxiety, and frustration, according to the impact report published by HHS. While hospitals were caring for COVID-19 patients, they sometimes turned away individuals in need of care for other ailments because of inadequate staff. Even when services and beds became available, the consequences of delayed care may have led to an increased need for more serious or longer care and recovery time.  
The Patient Experience Challenge ¶
The shortage of professional caregivers has caused a cyclical problem: An insufficient staff leads to heavy workloads, long hours, frustration, and exhaustion, which lead to flight from the profession, which leads to additional staff shortages. It's no surprise that patients are becoming accustomed to waiting longer for appointments for regular checkups, non-emergency tests and procedures, elective care, and specialty services. 
With the increased workload, many doctors spend less time with patients, which negatively impacts patient satisfaction and trust. The challenge of patient satisfaction becomes even more serious when staff shortages lead to errors or mistakes in medication, protocol, or procedures.  
Workforce Solutions ¶
Finding healthcare solutions that will be both effective and long-term require political, educational, workplace, and personal cooperation.
In an open letter to the Energy & Commerce Committee of the U.S. House of Representatives, the American Hospital Association (AHA) requested support for the nation's healthcare workforce as follows: 
The federal financial support systems that stabilized some of the pandemic chaos, such as the Provider Relief Fund — funded by the Coronavirus Aid, Relief, and Economic Security (CARES) Act, the Paycheck Protection Program and Health Care Enhancement Act, and the Consolidated Appropriations Act, 2021 — and federally funded reimbursements through FEMA for COVID-19-related state emergency response costs, must continue and expand into educational programs and financial incentives for both new and veteran members of the workforce.  
Streamlining the process of visa procurement for foreign-trained professionals will allow more qualified nurses to enter the country quickly and easily.  
McKinsey & Company recommends specific ways to promote and support care providers:
Colleges and universities should make early appeals to students in high school and to midcareer joiners to consider healthcare careers. 
More extensive use of innovative technology and digital engagement for clerical or scheduling duties would free up more time for face-to-face patient care.
In addition, as distance interactions increase among physicians, care providers, patients, and suppliers, creating more efficient and reliable supply chain processes will improve how medication and equipment are shipped directly to patients, as reported by Healthcare Transformers. As a result, less follow-up time and effort will be required.
Finances ¶
Healthcare professionals facing demanding workloads are demanding higher wages. Supply chain breakdowns have increased the price of goods and materials. And the entire industry faces financial challenges from organization and facilities costs to bill collection. 
Increasing Costs and Limited Organizational Budgets ¶
The cost of medical services, equipment, and medication has risen dramatically in the recent past. In addition, the need to hire much more expensive contract or traveling nurses to fill the nursing shortage gap shows no sign of slowing down. 
The complexities of billing and insurance processes are intricate and time-consuming, requiring hours of administrative time and attention. In addition, cumbersome and outdated systems that require paperwork and hand-generated checks are not uncommon in healthcare. 
Many of these budgetary challenges can be attributed to delayed or defaulted patient payment collections.
Increased Costs to Patients ¶
Despite the rising cost of insurance premiums, insurance companies are limiting benefits, and patients are responsible for a larger proportion of medical costs. The result of these rising costs is twofold: (1) patients delay care until their conditions are critical, requiring even more service and bigger bills; and (2) some patients delay paying providers for services because the increased cost of insurance has dismantled their already strained budgets.
Price and Billing Transparency ¶
Navigating the labyrinth of insurance coverage, claims, and payments can be confusing. Codes for treatments and services are difficult to understand, and the actual price of a service or procedure is often a mystery. 
When provider or insurance billing and claims departments use acronyms and industry jargon on explanation of benefits and customer invoices, patients pay without question, delay payment, or refuse to pay until they can find answers. Those delays are frustrating for patients and financially crippling for the medical providers.
Invoicing and Payment Processing ¶
When generating invoices, hospitals, doctors' offices, specialists, and laboratories determine which costs not paid by the insurance company will be patients' responsibility. Since a larger portion of the cost now falls to patients, collection is critical to a facility's operation. Many healthcare providers have fallen behind the times, however, using clumsy paper-based billing systems — involving invoice and check writing, printed stationery, and costly postage — instead of more efficient paperless systems.
Financial Solutions ¶
For patients, insurers, and medical facilities and groups, solving financial challenges can be difficult. But by working cooperatively, each of these stakeholders can find ways to make organizational and patient financial concerns less complicated and more user-friendly. According to MailMyStatements:
Medical facilities and insurers should invest in advanced systems of billing and payment, making patient costs clearer while providing a variety of ways to view and pay bills.
Providers should also consider alternate methods of determining patient costs. Bundled payment, for example, is a model in which the patient is responsible for a single payment that covers all services required, from any and all providers, from diagnosis to cure.
Healthcare Transformers also notes the importance of establishing efficient and reliable supply chains and processes to allow medical providers to depend on timely delivery of the products they require. When there is no need to stockpile materials and equipment, funds are available for more critical and worthwhile expenditures.
Technology ¶
Technological innovations produce many benefits, but the liabilities and challenges must be identified and resolved.
Cybersecurity ¶
In 1996, President Bill Clinton signed the federal Health Insurance Portability Accountability Act (HIPAA) into law to ensure that patients' protected health information is held in strictest confidence.
At the same time, the use of digital and shared medical information has become widely accepted. While offering convenience and portability, web-based technology has increased the opportunity for hackers to invade privacy and gain access to private files. 
Integrating New Technology With Existing Systems ¶
Digital information often comes from disparate sources, with no built-in translation from one system to the other, meaning that critical information may be inaccessible to some of the doctors and nurses involved. Without having all of the details, caregivers, insurance providers, laboratories, and medical facilities may be working at cross purposes or duplicating efforts. Follow-up, retesting, and billing tasks could also be streamlined if every aspect of patient care were cross-compatible.
New telehealth capabilities certainly streamlined patient interaction and reduced waiting and travel times. Introducing new technology to existing business processes, however, can produce mixed, disappointing, or incomplete data. For example, most healthcare workers, departments, and teams rely on what MailMyStatements refers to as "big data," the necessary and detailed information sharing and changing that happens when a patient changes insurance companies or care providers. Combining the information from these new sources with existing systems is not always seamless.
Solutions in Technology ¶
The challenges of the high cost of technology and maintaining privacy are connected. Healthcare Transformers recommends that medical facilities and providers: 
Be willing to invest in technology and the regular upgrades required to stay current
Collaborate with other organizations and shareholders to create systems that speak a common language  
In addition, MailMyStatements lists several steps healthcare administrators can take to build and maintain impenetrable security measures against cyberattacks, such as:
Create strong file walls
Implement multifactor authentication protocols
Require third-party vendors to earn safeguarding certification
Patients want to know that the details of their medical history and care are secure and accessible.
Different Jobs in the Medical Field ¶
Whether working with patients or behind the scenes, each professional with a bachelor's or a master's degree in healthcare is a problem solver. Here are a few ways graduates can make a real difference for medical providers, facility staff members, patients, and communities. 
Health Education Specialist              ¶
Healthcare education specialists teach people what intentional behaviors will promote their own wellness. In healthcare facilities, nonprofits, and public health departments, they find appropriate health services and information, develop and monitor training programs, supervise staff trainers, and encourage individuals to take advantage of healthy lifestyle resources.
By providing practical tools for healthier living, health education specialists help people help themselves, stay out of the doctor's office longer, and advocate for their own well-being. Individuals who have healthy habits can and do lessen the burden of healthcare workers and medical facilities by avoiding preventable medical conditions. 
Professional Path
A bachelor's degree in health education or promotion is usually required to become a health education specialist. Some employers also require certification, such as the Certified Health Education Specialist (CHES) credential offered by the National Commission for Health Education Credentialing Inc. or the Certified Diabetes Care and Education Specialist (CDCES) credential from the Certification Board for Diabetes Care and Education.
Health Education Specialist Salary and Job Growth
The U.S. Bureau of Labor Statistics (BLS) reported a median annual wage of $60,600 for health education specialists in 2021 and projected an increase in job openings of about 8% between 2021 and 2031. 
Healthcare Administrator ¶
Healthcare administrators, also referred to as health services managers, are employed by nursing homes, clinics, and other medical facilities. Their duties may include the oversight and management of one or more areas, such as:
Staff, facilities, and clients' or patients' care
A specific department
Facility and staff licensing
Patient record maintenance and security
Hardware, software, use, security, and maintenance of appropriate technology
When medical facilities migrate to new technology or incorporate data from a new source into an existing system, the fallout can be costly in labor and employee morale. Healthcare administrators work to mitigate these challenges and create an environment that values employee effort while affirming their concerns and burnout, which can lead to less turnover and stronger work ethics.
Professional Path
Candidates must earn at least a bachelor's degree to be considered for most healthcare administrative or managerial positions; a master's degree in a field related to healthcare that includes supervised clinical experience is often preferred. Experience as a nurse or in an administrative role in a clinic, nursing home, or medical records department may also be required. 
Healthcare Administrator Salary and Job Growth
The BLS reported a median annual wage of $101,340 for healthcare administrators in 2021 and projected a 28% increase in the number of positions between 2021 to 2031.
Hospital CEO ¶
Accepting the job of hospital CEO means accepting the challenges and rewards that come with serious responsibilities. As top executive, the CEO is the last word in providing quality care for patients and a healthy working environment for workers. Included in these tasks are:
Demonstrating leadership that's respected both inside and outside of the organization
Recruiting, training, and retaining a highly qualified staff by building an inclusive and positive workplace culture 
Maintaining ethical positions on hospital finances while producing a strong bottom line
Setting the example of high standards for work performance and results 
Monitoring compliance with all state, local, and federal mandates and regulations
Establishing and nurturing relationships with stakeholders, outside organizations, the media, and the community
As the leader of an entire workforce, a hospital CEO makes decisions that may affect every challenge faced by the organization. Creating a positive work environment, selecting only the best medical talent, budgeting with patients and workers in mind, and connecting with the community are only a few of the ways an effective CEO can bring change and solutions.
Professional Path
Earning a bachelor's degree in business or healthcare is the first of many steps required to become a hospital CEO. Depending on the size and location of the hospital, it may be necessary to gain experience as a front-line medical provider or business leader. Completing a master's degree in strategic healthcare management and administration will also improve the chances of securing a position with elevated responsibility and reward. 
Working in management positions in different departments within a hospital setting, up to chief operating officer (COO), the position that reports directly to the CEO, can be critical when developing a strong background in preparation of filling a top executive position in a large hospital or healthcare network.
Finally, obtaining certification offered by the American College of Healthcare Executives or the American Association of Healthcare Administrative Management can show evidence of the commitment necessary to succeed as a hospital CEO.
Hospital CEO Salary and Job Growth
In September, 2022, the median salary for hospital chief executive officers was about $153,900, according to Payscale. The BLS projected job growth for top executives to be about 6% between 2021 and 2031.
Community Service Manager ¶
Community service managers work for organizations that focus on supporting a specific demographic (such as children, people experiencing homelessness, the elderly, or veterans) or those with specific challenges (such as substance misuse, mental health, or food insecurity). Their duties include:
Identifying programs and services best suited to their clientele
Analyzing and interpreting data to ensure the effectiveness of programs
Creating and distributing outreach materials and activities to increase awareness of available programs
Writing and monitoring the status of funding requests and grant proposals for additional or improved programs and materials
Community service managers have tools to stay ahead of the trends in community issues that impact medical care givers and facilities with programs designed for specific, local healthcare challenges that tend to overwhelm medical facilities and lead to healthcare worker dissatisfaction. 
Professional Path
Because of the differences in demographics and needs, the path to employment as a community service manager varies by community. However, a bachelor's degree and master's degree in fields related to social services and public policy are usually required. In addition, experience in social work and counseling is often required but always a plus when competing for a position. 
Community Service Manager Salary and Job Growth
The BLS reported a median annual wage of $74,000 for community service managers in 2021 and projected an increase in job openings of about 12% between 2021 and 2031, faster than the average rate.
Substance Misuse Counselor ¶
Substance misuse counselors work with clients to evaluate their condition and develop a plan of action. Here are some positive elements of a solid plan: 
Clients begin to recognize problem behaviors and identify situations that interfere with their goals. 
Friends and family are included in the plan.
Outside resources become part of the plan, providing additional help and guidance. 
Substance misuse counselors also create outreach programs so groups and communities learn how to avoid and respond to addictive behaviors. 
With the rising concerns about the opioid epidemic, substance misuse counselors can head off a multitude of problems caused by the misuse and effects of drugs. With solid action plans, patients are much less likely to require services that overload providers and caregivers. 
Professional Path
The path to becoming a substance misuse counselor depends in part on the employer. Almost all facilities require a bachelor's degree in, for example, psychology, but a master's degree will expand the opportunities for more complex assignments and reduced levels of supervision. 
For counselors interested in working in private practice, the requirements usually include a master's degree, extensive supervised clinical experience, and a license, all of which vary from state to state. The licensing process is overseen by the National Board for Certified Counselors and NAADAC, the Association for Addiction Professionals.
Substance Misuse Counselor Salary and Job Growth
The BLS reported a median annual wage of $48,520 for substance misuse, behavior disorder, and mental health counselors in 2021 and projected an increase in job openings of about 22% from 2021 to 2031, a much faster than average rate.
Be Part of the Solution — Prepare for a Position in Healthcare Management and Administration ¶
In the coming years, healthcare challenges will largely drive healthcare trends. Clearly, professionals in hospitals, nursing homes, community centers, and doctors' offices will be the ones to discover appropriate, efficient, and cost-effective healthcare solutions. 
To enter this field and become a problem solver, consider the undergraduate and graduate online degrees in healthcare offered by Athens State University. Find out how Athens State can help you embark on a career solving challenges and setting trends in healthcare.
Sources:
AHA Trustee Services "Top 10 Emerging Trends in Health Care for 2021: The New Normal"
American Hospital Association, "AHA Letter Re: Challenges Facing America's Health Care Workforce as the U.S. Enters Third Year of COVID-19 Pandemic"
American Medical Association, "Doctor Shortages Are Here — and They'll Get Worse if We Don't Act Fast" 
Association of American Medical Colleges, "AAMC Report Reinforces Mounting Physician Shortage"
Centers for Disease Control and Prevention, "Health Insurance Portability Accountability Act of 1996"
Certification Board for Diabetes Care and Education, Thinking About Earning the CDCES?
HC1, "Precision Health: 10 Healthcare Industry Trends to Watch in 2022"
Health Affairs, "For Health Care Providers, Five Trends to Watch in 2022"
Healthcare Transformers, "Improving the Healthcare Supply Chain: Innovative Companies Tackling the Challenge"
Healthcare Transformers, "The 3 Biggest Challenges in Healthcare"
Indeed, "How to Become a Hospital CEO in 5 Steps (Plus FAQs)"
MailMyStatements, "7 Major Challenges Facing the Healthcare Industry in 2022"
McKinsey & Company "Assessing the Lingering Impact of COVID-19 on the Nursing Workforce"
NAADAC, The Association for Addiction Professionals, Certification
National Board for Certified Counselors, State Licensure
National Commission for Health Education Credentialing, CHES Exam
Patient Safety and Quality: An Evidence-Based Handbook for Nurses, "Nursing Workload and Patient Safety — A Human Factors Engineering Perspective"
Payscale, Average Hospital Chief Executive Officer Salary
TripSpark, "HealthCare Challenges for 2022"
U.S. Bureau of Labor Statistics, Health Education Specialists and Community Health Workers
U.S. Bureau of Labor Statistics, Medical and Health Services Managers
U.S. Bureau of Labor Statistics, Social and Community Service Managers
U.S. Bureau of Labor Statistics, Substance Abuse, Behavior Disorder, and Mental Health Counselors
U.S. Bureau of Labor Statistics, Top Executives 
U.S. Department of Health & Human Services, Office of the Assistant Secretary for Planning and Evaluation, "Impact of the COVID-19 Pandemic on the Hospital and Outpatient Clinician Workforce: Challenges and Policy Responses"
U.S. News & World Report, "Staff Shortages Choking U.S. Health Care System"
Related Articles: