How to Gain Nurse Leadership Skills to Advance Your Career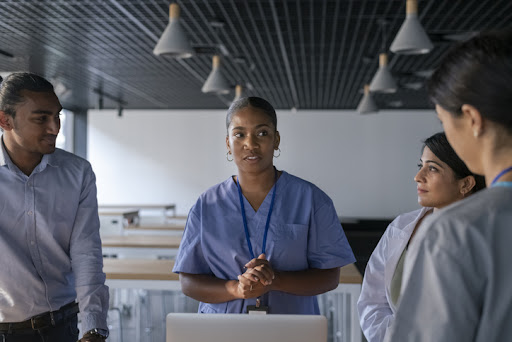 How to Gain Nurse Leadership Skills to Advance Your Career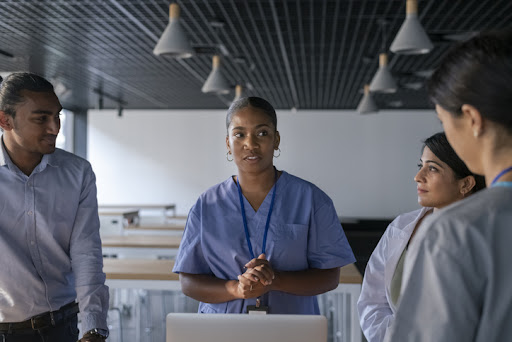 How to Gain Nurse Leadership Skills to Advance Your Career ¶
With the population of existing nurses aging and the pipeline for new nurses limited, the American Association of Colleges of Nursing (AACN) has warned of a worsening nursing shortage. With fewer nurses available, nurse leaders will also be in short supply. For both existing nurses and individuals considering nursing as a career, this challenge serves as an opportunity.
Those with an interest in becoming nurse leaders can take advantage of quality healthcare education programs to gain the nurse leadership skills they need to thrive as educators, administrators, managers, and more.
The Importance of Nurse Leadership ¶
The COVID-19 pandemic showed the world that nurse leadership skills are crucial to the effective delivery of healthcare at the most fundamental levels. As the rapidly changing healthcare environment grew more complex, and as new challenges arose, nurses in every role were forced to adapt and lead.
Nursing leaders were among the first to develop new ways to care for the sudden influx of patients, the first to create systems to address the shortage of personal protective equipment (PPE), and the first to introduce new workflows designed to improve patient outcomes. Their leadership saved countless lives.
More broadly, exceptional nurse leadership is strongly linked to improvements in patient care. Studies have shown that better relational leadership changes outcomes for the better in several ways, from higher patient satisfaction ratings to fewer medication errors, fewer hospital-acquired infections, and lower patient mortality.
The next generation of nurse leaders will play an important role not only in improving the accessibility of healthcare and advancing the quality of care but also in mentoring and teaching the nursing workforce of the future. Bachelor of Science in Nursing (BSN) programs teach several of the most important nurse leadership skills, while BS in Healthcare Management and BS in Occupational Health and Safety Management programs cover the specialized knowledge and administrative expertise that are critical in several of the top nurse leadership roles.
How to Develop Nurse Leadership Skills ¶
All nurses are "leaders" at a fundamental level, but to qualify for high-demand nurse leadership roles, a nurse will want to actively cultivate the professional skills that can only come from hard work, education, and building relationships. Some basic strategies for aspiring leaders include:
Stay Positive ¶
A career in nursing will have good days and bad days, but nurse leaders continue to press forward with a positive mindset. Positivity helps nurses remain passionate about what they do, and it gives them the initiative they need to find and solve problems in ways that could change the profession for the better.
Continue to Gain Knowledge ¶
Nurses who seek higher education are often the very same individuals who use their critical thinking skills to generate ideas, solve problems, build teams, and even bring innovation to the healthcare industry. Seeking a BSN degree is a great first step, but more advanced degree programs designed to provide more specialized knowledge also are available for those who want to work in management or administrative positions.
Earning a Master of Science in Nursing (MSN) or a Doctor of Nursing Practice (DNP) degree can lead to amazing opportunities for nurses to improve their work environments, patient outcomes, or both.
Join Professional Organizations ¶
Professional nursing and healthcare organizations offer valuable opportunities to develop nurse leadership skills. Active members participate in discussions and community outreach events designed to help them learn skills such as activism, advocacy, and even lobbying for changes or updates to regulations. Many nurse leaders hone their leadership skills by serving on committees and networking with others who share their passion.
Nurse Leadership Careers ¶
Nurse leaders have many high-paying and fulfilling career paths available to them. Some choose to work in universities or healthcare facilities as nurse educators, some prefer roles in healthcare administration, while others go on to become chief nursing officers (CNOs) of hospitals or even CEOs of entire healthcare networks. Here are some common roles for nurse leaders in today's healthcare industry:
Nurse Educator ¶
Nurse educators teach, guide, and influence future generations of nurses. While an MSN, PhD, or DNP degree is required to teach the nursing curriculum in universities and colleges, many nurses with BSN degrees work alongside these educators and assist in clinical settings, especially in teaching hospitals.
The U.S. Bureau of Labor Statistics (BLS) reports that the median annual salary for postsecondary nursing instructors and teachers was $77,440 as of May 2021.
Medical and Health Services Manager ¶
Medical and health services managers are responsible for planning and coordinating the everyday business activities of hospitals, clinics, and other healthcare organizations. Their duties tend to focus on the business and legal aspects of healthcare, and this requires specialized education and exceptional nurse leadership skills. Many in this role enter the field with a BS in Healthcare Management, but MS degrees are not uncommon.
The median annual salary for medical and health services managers was $101,340 in May 2021, according to the BLS. Employment of these professionals is expected to climb by 28% between 2021 and 2031, making it one of the most in-demand roles in healthcare.
Healthcare Administrator ¶
Whereas medical and health services managers are responsible for directing and managing procedures and policies, healthcare administrators tend to focus their efforts on human resources and staffing. Healthcare administrators may be responsible for hiring new staff to fill available roles, overseeing a team of nurse managers, and reporting to others in managerial positions.
The median salary for healthcare administrators was about $76,000 a year as of January 2023, according to the compensation website Payscale.
Hospital CEO ¶
The chief executive officer of a hospital has numerous responsibilities that range from strategic planning to creating and amending policies to directing day-to-day activities according to a set of guidelines set forth by the hospital board. In short, the hospital CEO ensures that their facility is efficiently run and provides the best possible patient care. Hospital CEOs may also look for fundraising opportunities, oversee entire departments of a hospital, and make decisions about the future of the facility.
Per data from Payscale, the median annual salary for hospital CEOs was roughly $156,000 as of January 2023.
Chief Nursing Officer ¶
Chief nursing officers play crucial roles across a wide range of healthcare organizations by overseeing their daily operations. Their primary concern is balancing the overall welfare of the organization's patients and staff with the management of crucial resources to ensure that everyone has access to the funding they need to provide the best possible care.
Today's CNOs focus heavily on nurse resilience in terms of scheduling, providing wellness programs and incentives, and matching talented nurses with roles that best suit their needs and their career goals.
CNOs had a median annual salary of about $138,000 as of January 2023, according to Payscale.
Learn the Skills You Need to Lead the Next Generation of Nurses ¶
Nurse educators, healthcare administrators, hospital CEOs, and other nursing leaders play important roles in advancing the nursing profession, from positively influencing patient outcomes to bringing innovation to the healthcare industry. Nurse leadership skills are critical to how medical care is delivered.
Learn more about how an online degree program at Athens State University such as the BS in Healthcare Management, BS in Occupational Health and Safety Management, or RN to BSN program can help you build the skills you need for a high-paying nursing leadership career.
Recommended Readings:
How to Become a Healthcare Administrator
What Can You Do With a BSN Degree Besides Nursing?
Healthcare Trends: Challenges and Solutions
Sources:
American Association of Colleges of Nursing, Nursing Shortage
American Nurses Association, Nurses in the Workforce
Payscale, Average Chief Nursing Officer (CNO) Salary
Payscale, Average Healthcare Administrator Salary
Payscale, Average Hospital Chief Executive Officer Salary
U.S. Bureau of Labor Statistics, Medical and Health Services Managers
U.S. Bureau of Labor Statistics, Nursing Instructors and Teachers, Postsecondary
Related Articles: