Why Strategic Planning in Healthcare Is Essential Post-Pandemic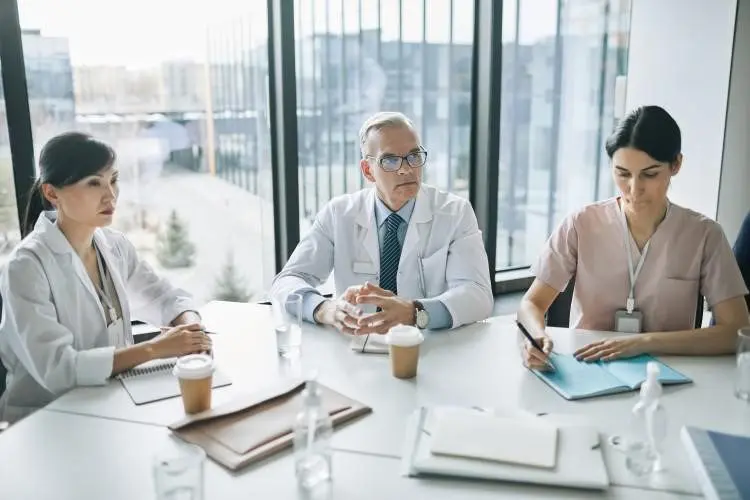 Why Strategic Planning in Healthcare Is Essential Post-Pandemic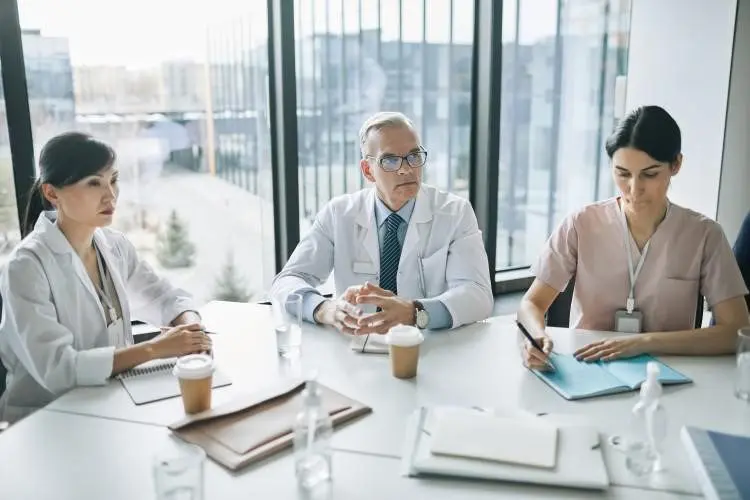 The Pandemic's Impact on the Healthcare Industry ¶
The COVID-19 pandemic compounded the problems of a healthcare system already in dire need of reform. For example, many people lost their employer-sponsored insurance thanks to the rise of unemployment during the pandemic shutdowns, which affected more than 20 million Americans, according to The New England Journal of Medicine. Without healthcare coverage, individuals lose their means to receive regular health services.
Additional impacts included interruptions and delays to elective and ambulatory surgical procedures at many hospitals. According to the U.S. Department of Health and Human Services, ambulatory care visits — including preventive care, dental and eye care, and cancer treatments — went down by 60% in March and April 2020. Health services utilization also dropped immensely, thanks to elective care cancellations and the increased need for social distancing in health facilities.
The outset of the COVID-19 pandemic in early 2020 also generated sharp revenue losses and lower employment rates in the healthcare industry, according to Peterson-KFF. Many healthcare workers are experiencing burnout as a result of working in high-stress pandemic conditions with ongoing staff shortages. According to a 2021 Washington Post survey, around 30% of healthcare workers were considering leaving the healthcare profession as a result of COVID-19.
The Need for Strategic Planning in Healthcare ¶
The aforementioned challenges have created opportunities for healthcare organizations to apply lessons learned in order to:
Better meet the demands for effective patient care amid rising hospitalizations
Become more agile and adapt to evolving employment trends, such as the rise of remote and hybrid workforces
Mitigate the wide-ranging impacts of a global supply chain gone awry
An essential factor in overcoming the negative impacts of the pandemic is strategic planning in healthcare.
What is strategic planning in healthcare? It is a way for healthcare organizations to plan for the future and better prepare for potential disruptions. Strategic planning involves determining where an organization is today and envisioning where it will be in the future. It is important because it sets a path for healthcare organizations to achieve key goals, including the following examples:
Prioritizing critical issues of importance to staff and patients
Identifying areas to invest in to ensure the necessary resources are available to staff
Improving cross-departmental communications
Setting a clear organizational mission and vision
Increasing employee motivation and strengthening engagement
Demonstrating leadership to help inspire staff to excel in their roles
Building a sense of shared responsibility and cooperation
Today, strategic planning also involves understanding how the pandemic impacts the healthcare system, and with an understanding of the lessons learned, healthcare organizations can implement forward-looking plans to prepare for future challenges.
Strategies to Prepare for Future Challenges ¶
Various strategies can help healthcare organizations prepare for future disruptions or crises. Taking the lead on implementing these strategies to help organizations adapt to change are professionals with advanced management skills in their field, including strategic planning in healthcare.
There are several ways that knowledgeable professionals with strategic healthcare management knowledge and skills can leverage strategic planning to prepare healthcare organizations for the future.
Optimize Efficiencies to Ensure Adequate Staffing ¶
Optimizing efficiencies can help address the shortages of primary care physicians and nurses and enable overburdened healthcare workers to become more efficient, resulting in faster, higher-quality care delivery.
Improve Clinical Operations ¶
By focusing on approaches to healthcare delivery that reduce complexity, the healthcare industry can better meet regulatory demands, optimize payment processes, and do more with less. 
Build a Resilient Organizational Culture ¶
According to an article in JAMA Internal Medicine, the rising infections during the pandemic, especially in the early stages, created short-term crises until hospitals could expand capacity and resources. Incorporating organizational resilience as part of the culture emphasizes the importance of empowering healthcare workers to meet unexpected demands, such as upticks in patient inflows. This means providing technical resources to allow them to do their work effectively and implementing strategies and support programs to keep them healthy and safe. 
Invest in Facility Improvements to Improve Airflow ¶
JAMA Internal Medicine notes that frequent air changes are required for isolation rooms. Surges in COVID-19 cases, however, forced hospitals to keep patients in rooms where air changes were not frequent. According to the Centers for Disease Control and Prevention (CDC), upgrading ventilation systems can improve the delivery of clean air while reducing potential contaminants. 
Improve Supply Management ¶
JAMA Internal Medicine also explains that hospitals maintain minimal excess supplies for cost savings and typically work with a limited number of equipment suppliers. During the pandemic, this created equipment shortages. An improved supply and expanded vendor relationships can help mitigate this challenge.
Extend Medical Care Through Telehealth ¶
Amid the pandemic, hospitals were stretched to provide services for non-COVID-19 patients, according to Health Affairs. Many people also feared getting infected in hospitals. To address the challenge, telehealth eliminates the need for making unnecessary hospital admissions. This enables hospitals to more effectively distribute life-saving resources to patients who need them the most and lower healthcare costs.
Additional strategies to help healthcare workers cope with the challenges and enable healthcare organizations to address future problems include:
Improving data collecting
Automating manual processes
Enabling better communication
Providing the tools and resources
Become an Agent of Progress in Healthcare ¶
According to a study published in BMC Health, three elements are essential for effective change in healthcare organizations:
Healthcare workers must have the opportunity to influence change.
Organizations need to be prepared for change.
Organizations need to put a high value on change and its impact.
Athens State University's online Master of Science in Strategic Healthcare Management and Administration program can equip graduates to help guide organizations toward successful change through strategic healthcare planning. Students enrolled in the program can take courses in finance, organizational management, human capital management, cultural competence, informatics, healthcare policy, and more.
Learn how Athens State University can help prepare you to contribute to long-term organizational progress in healthcare.
Recommended Readings
Data-Driven Leadership: How to Maximize Data in Business and Healthcare
Healthcare Administration vs. Healthcare Management
Healthcare Administration Careers: What Can You Do With a Master's in Healthcare Management?
Sources:
American Hospital Association,  "Forecasting Shifts in Strategic Priorities Amid COVID-19"
American Journal of Emergency Medicine , "Strategic Planning and Recommendations for Healthcare Workers During the Covid-19 Pandemic"
Becker's Hospital Review , "Strategic Outlook for Hospitals Post-COVID"
BMC Health Services Research , "Characteristics of Successful Changes in Health Care Organizations: An Interview Study With Physicians, Registered Nurses and Assistant Nurses"
BMC Public Health, "The Role of Telehealth During COVID-19 Outbreak: A Systematic Review Based on Current Evidence"
Centers for Disease Control and Prevention, Air
Centers for Disease Control and Prevention, Ventilation in Buildings
Health Affairs , "The Impact of the COVID-19 Pandemic on Hospital Admissions in the United States"
Healthcare Financial Management Association, "COVID-19's Impact on Healthcare Drives the Need for a Consumer Focus"
JAMA Internal Medicine , "Nine Lessons Learned From the COVID-19 Pandemic for Improving Hospital Care and Health Care Delivery"
KSM, "Why Now Is the Right Time for Your Healthcare Organization to Develop a Strategic Plan"
The Lancet , "COVID-19: A Heavy Toll on Health-Care Workers"
The New England Journal of Medicine , "Covid-19 — Implications for the Health Care System"
Peterson-KFF, "What Impact Has the Coronavirus Pandemic Had on Health Employment?"
U.S. Department of Health and Human Services ASPR TRACIE, "COVID-19 Healthcare Delivery Impacts"
Washington Post, "Burned Out by the Pandemic, 3 in 10 Health-Care Workers Consider Leaving the Profession"
Related Articles: