Supply Chain Management vs. Logistics: What's the Difference?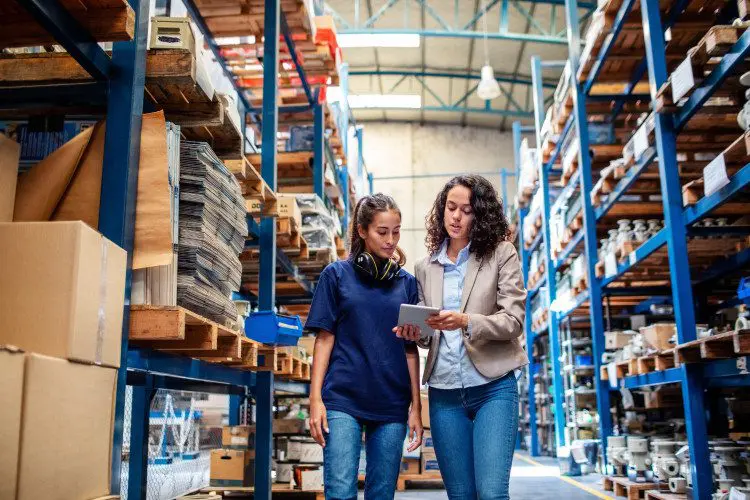 Supply Chain Management vs. Logistics: What's the Difference?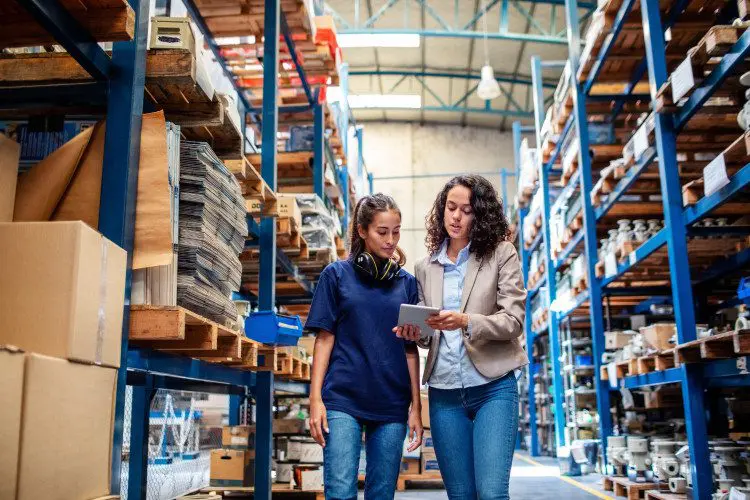 Supply chain management (SCM) is an umbrella term for the network of manufacturers, retailers, suppliers, wholesalers, and other parties involved in the production and delivery of goods and services to consumers. Logistics — a subset of SCM — refers to the functions involved in storing materials and moving them from one point to another along the supply chain.
While SCM is broader in nature than its more-targeted component, logistics, the two fields do intersect. Both roles also offer many opportunities for job seekers, thanks in part to pandemic-related challenges that have companies scrambling to transport products to consumers around the world.
Bachelor's degree holders interested in advancing their careers, while helping to address today's supply chain challenges, should explore a master's degree in logistics and supply chain management.
SCM and Logistics: Similarities and Differences ¶
Supply chain management and logistics are so closely related that people often use the two terms interchangeably. But they are separate functions with different tasks and responsibilities. Understanding the difference between these terms — supply chain management vs. logistics — and the characteristics of each function helps companies better focus their efforts to improve operations and customer service.
How SCM and Logistics Are Similar ¶
Both SCM and logistics involve the storage and transportation of goods from the point of origin to final delivery — from the supplier, to the manufacturer, to the wholesaler, the retailer, and ultimately the consumer. They require coordination of supplies, labor, equipment, and facilities to ensure smooth movement along the supply chain. Both practices aim to:
Support a company's success and confer a competitive advantage
Provide goods to consumers as efficiently as possible
Increase customer satisfaction
How SCM and Logistics Are Different ¶
The main difference between SCM vs. logistics is the scope of the processes each function entails. SCM is more comprehensive and includes all of the parties in the supply chain, including those responsible for transforming raw materials into final products and then moving, storing, and selling them. Logistics is narrower in focus, referring specifically to acquiring, storing, and transporting goods.
Supply chain management: Includes a variety of activities between separate entities, ranging from planning for supply and demand, to managing inventory, to logistics — all focused on strategies that provide outstanding customer service and give a competitive advantage to the business.
Logistics: Is just one part of supply chain management, but it's a critical part. It targets the internal movement and storage of goods along the supply chain, with processes such as warehousing, packaging, and fulfillment.
SCM and Logistics Careers and Salaries ¶
With so many components in the process of producing, storing, and shipping products, the options for careers in supply chain management and logistics abound. These roles call for skills and expertise including:
Attention to detail: Careful consideration of all aspects of the manufacturing and delivery of goods, to prevent delays and mistakes in manufacturing and distribution
Critical thinking: The use of reasoning to find strengths and weaknesses in processes and effective approaches to managing issues
Customer service: Understanding processes such as assessing customer needs, meeting quality standards, and measuring customer satisfaction
Economics and accounting: Knowledge of principles and practices related to financial markets, banking, and analyzing and reporting financial data
Interpersonal skills: The ability to work with a variety of stakeholders in the supply chain
Problem solving. Reviewing available information to understand problems and implement solutions
Understanding of transportation: Knowledge of principles of, and modes for, moving goods by air, rail, sea, and ground
The following are some of the roles that professionals in SCM and logistics can pursue along with the median salaries for those careers.
Supply Chain Manager ¶
Supply chain managers are responsible for managing the steps involved in purchasing raw materials, delivering them to different destinations throughout a company, ensuring the business produces enough of the product to satisfy customer demand, and overseeing the accurate and on-time delivery of those goods. Typical tasks include:
Tracking raw materials during the production process
Evaluating the availability of supplies and staff to meet manufacturing needs
Developing systems that enhance efficiency in manufacturing and delivering goods
The median annual salary for supply chain managers in 2020 was $96,390, according to the U.S. Bureau of Labor Statistics (BLS).
Supply Chain Production Planner ¶
These professionals work to determine the overall manufacturing output a company will require to accommodate its anticipated sales, organizational goals, and market challenges. The goal is to balance supply and demand, so the business can maximize its profit and control costs. Supply chain production planners' tasks commonly include:
Using historical data to identify patterns in the supply and demand for individual products and groups of products
Creating forecasts for supply, demand, capacity, and materials for a company's goods
Developing plans to meet projected production needs
Supply chain production planners earned a median annual salary of about $92,400 in July 2021, according to the compensation website PayScale.
Logistics Manager ¶
Logistics managers, also known as logisticians or distribution managers, oversee the flow of products through a company. They help ensure the accurate and on-time delivery of materials and products. Tasks performed by logistics managers include:
Tracking inventory
Developing relationships with suppliers and distribution clients
Managing warehouse staff
Directing the transportation of goods to and from warehouses
The BLS reports professionals in this role earned a median annual salary of $76,270 in May 2020.
Logistics Analyst ¶
Logistics analysts review and oversee the logistics functions within a supply chain, such as purchasing, distribution, and use of resources. This role is focused on helping companies streamline operations and enhance performance, with tasks including:
Uncovering and addressing inefficiencies along the supply chain
Evaluating a product's entire life cycle to ensure the supply chain is operating smoothly
Identifying the best ways to use a company's resources to achieve organizational goals
Logistics analysts earned a median annual salary in December 2021 of about $59,700, according to PayScale.
SCM and Logistics Jobs Outlook ¶
The job outlook for careers in SCM and logistics is strong. The BLS projects that logisticians, or logistics managers, for example, will see a 30% growth in jobs between 2020 and 2030 — much faster than the 8% projected average growth for all occupations.
The BLS attributes many of the openings in logistics to the need to replace transferring or retiring workers. Compounding the high demand for SCM and logistics professionals are pandemic-related supply chain issues.
The Association for Supply Chain Management (ASCM) cites analysis from RetailNext.net that shows in 2020, 64% of retailers around the world had modified their supply chains. Retailers reported disruptions in how they worked with vendors and their ability to adequately stock inventory.
These challenges, however, are shining a spotlight on the importance of supply chain and logistics processes to businesses' success. 
Recognition of the critical role of SCM is presenting opportunities for supply chain management and logistics professionals. ASCM projects 11.2% growth in the global supply chain market between 2020 and 2027. Additionally, the organization's 2021 survey of SCM professionals showed that a third of those searching for a job in the field found one in less than a month.
Advance Your Career in SCM and Logistics ¶
Understanding the characteristics of supply chain management and logistics — and how the two roles differ and intersect — is important for individuals who want to advance in the SCM field. SCM and its subset, logistics, offer a variety of opportunities to assist companies facing myriad challenges with their supply chains. 
If you are eager to advance your career helping companies address their SCM and logistics concerns, a sound strategy would be to explore Athens State University's online Master of Science in Global Logistics and Supply Chain Management degree. 
The program offers a career-focused education that can equip you for logistics and SCM roles in today's global business environment. Additionally, our degree program can be completed with the flexibility of online learning, allowing you to balance your academic, work, and family commitments.
Discover how Athens State's online Master of Science in Global Logistics and Supply Chain Management degree can help you achieve professional success in this in-demand field.
Recommended Readings
Supply Chain Management: Salary and Job Outlook
What Is Supply Chain Management and Why Is It Important?
Sources:
Association for Supply Chain Management, "Supply Chain Salary and Career Report"
Association for Supply Chain Management Houston Chapter, "Career Opportunities: Supply Chain Job Growth in 2021 and Beyond"
CAF Worldwide, What's the Difference Between Logistics and Supply Chain Management?
Indeed, "What Does a Logistics Manager Do?"
IndustryWeek, "Outlook 2022: Overcoming Supply Chain Bottlenecks"
Investopedia, Supply Chain Management (SCM)
O*NET Online, Logistics Analysts
O*NET Online, Supply Chain Managers
Oracle, "Supply Chain Management vs. Logistics: Differences, Similarities, and Roles"
Oracle Applications, Overview of Production Planning
PayScale, Average Logistics Analyst Salary
PayScale, Average Production Planning Manager With Supply Chain Skills Salary
Seekho, "10 Important Soft Skills for Logistics and Supply Chain Management Professionals"
TechTarget, Supply Chain Planning
U.S. Bureau of Labor Statistics,  Logisticians
U.S. Bureau of Labor Statistics, 11-3071 Transportation, Storage, and Distribution Managers
Related Articles: