What Can I Do With a Technology Management Degree?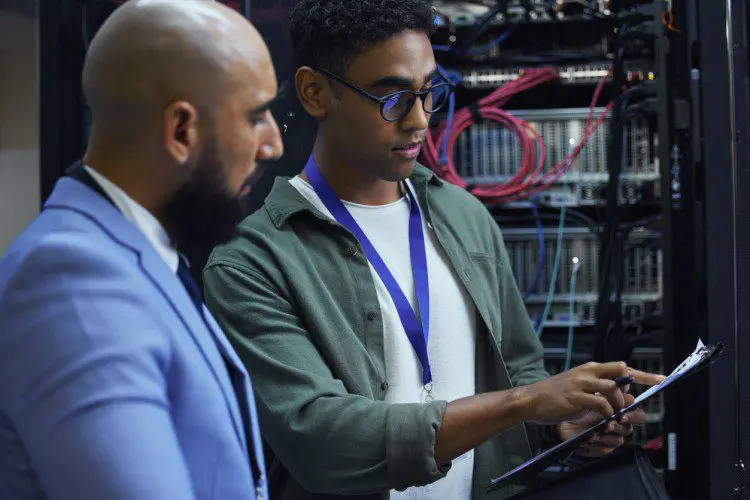 What Can I Do With a Technology Management Degree?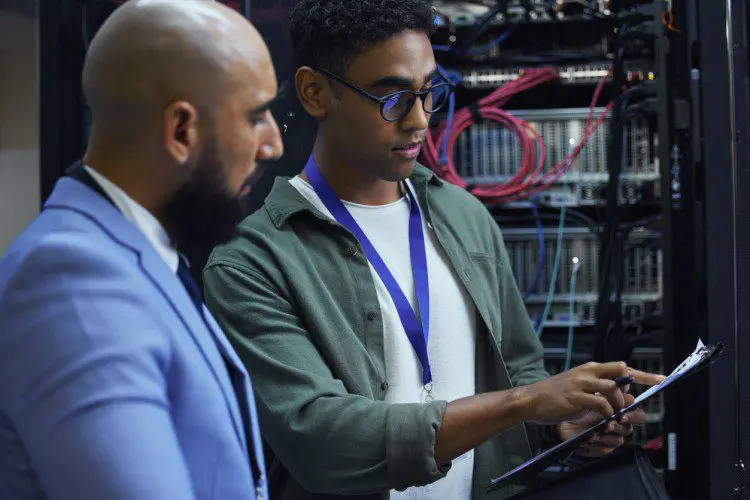 As businesses and organizations rely increasingly on technology, the demand for professionals with the knowledge and skills to manage that technology increases. Research firm Gartner Inc. predicts that worldwide spending on IT will grow by 5.1% in 2022. Technology management is a thriving profession, whether setting up an email server, developing a new piece of company software, or installing the latest anti-malware tools.
A degree in technology management can provide the right background for those interested in pursuing a career in IT.
Careers in Technology Management ¶
Technology management graduates can look forward to a wide array of careers, each in demand with high growth potential. 
IT Manager ¶
An IT manager is a specialist who oversees an organization's overall technical improvements and networking practices. These professionals direct IT staff and assist in troubleshooting computer and other system difficulties that may arise. IT managers also develop roadmaps to plan for technological improvements and suggest software and system upgrades to improve company workflow and security. 
IT managers typically require communication and leadership skills to best direct their teams and explain IT developments to other departments. The U.S. Bureau of Labor Statistics (BLS) reports that the median annual salary for IT managers was $159,010 in 2021, and it projects jobs in the category to grow 11% between 2020 and 2030.
Cybersecurity Analyst ¶
Cybersecurity analysts are significantly involved in developing a company's disaster recovery plan, which an IT staff follows in the aftermath of a cyberattack or emergency. These preparations ensure that an organization's IT department can continue functioning should critical data become corrupted from improper storage or malicious software attacks. They also create contingency plans in the event of data lost to theft, ransomware, or environmental factors such as a fire or flood. 
Cybersecurity analysts typically require skills in creative problem-solving. A large portion of their profession is anticipating security flaws and fixing them or preventing their abuse. The median annual salary for security analysts was $102,600 in 2021, according to the BLS, which projects jobs in this category to grow 33% between 2020 and 2030.
IT Project Manager ¶
IT project managers are in charge of planning, coordinating, assigning resources, budgeting, and effectively implementing specific projects. They often handle software development, network implementation, or upgrading an IT system. While IT managers oversee the department as a whole, IT project managers focus on a single or limited number of IT-related projects. IT project managers often report directly to IT managers. 
Although there is some overlap in abilities, the two professions rely on different management skills. IT project managers typically require skills in analysis and organization to best develop and fine-tune their projects. According to Payscale, the median annual salary for IT project managers was approximately $88,700 as of May 2022. The BLS considers IT project management a subset of IT management, for which it projects 11% job growth between 2020 and 2030.
Database Administrator ¶
Database administrators design and manage systems for storing and safeguarding information such as financial and customer data. They also ensure that authorized people have access to the data. Many databases include personal, private, or financial information, and a database administrator is frequently in charge of devising security methods to safeguard this vital data. 
Database administrators often specialize in either systems administration, which includes deploying updates and patches to correct software flaws in a physical database, or applications administration, a specialization tailored to developing and updating a single application or collection of apps. Database administrators typically require skills in analysis to recognize flaws in their database systems, problem-solving to rectify those system flaws, and communication to relay that information to the necessary teams and departments. 
Most database administrator positions require a bachelor's degree in IT or a related field. The BLS reports that the median annual salary for database administrators and architects was $98,860 in 2020, and it projects jobs in the category to grow by 8% between 2020 and 2030.
Explore a Degree in Technology Management ¶
Knowing what you can do with a technology management degree is the first step toward an IT career, and Athens State University's online Bachelor of Science in Management of Technology can help you down that path. The curriculum helps students become proficient in the use of technology as it relates to business and management, as well as team communication. 
With courses like Principles of Management, International Business, and Technology Transfer and Commercialization, the degree program prepares students for a rewarding career path in IT. Take your next step to becoming a technology management professional with Athens State University. 
Recommended Readings
4 Careers in Technology Management
Data-Driven Leadership: How to Maximize Data in Business and Healthcare
Benefits of a Business Analytics Degree
Sources:
Gartner, "Inc., Gartner Forecasts Worldwide IT Spending to Grow"
Indeed, "IT Manager Skills: Definitions and Examples"
Payscale, Average Database Administrator (DBA) Salary
Payscale, Average Project Manager, Information Technology (IT) Salary
TechTarget, "IT Project Manager"
U.S. Bureau of Labor Statistics, Computer and Information Systems Managers
U.S. Bureau of Labor Statistics, Database Administrators and Architects
U.S. Bureau of Labor Statistics, Information Security Analysts
Wall Street Journal, "Employees Are Accessing More and More Business Apps"
Related Articles: